"Hun! Need some recommendations for fake tan… have a work event next week and want to get my legs out but I'm soooo pale… any recommendations?"
Hi my lovely,
You've come to the right place! I am a big fan of good fake tan and in recent years as I am becoming more and more skin-aware and sun-safe, I prefer to shield my skin in the sun and use fake tan for a summery glow.
If you're looking to get a bit of colour on your legs just for the night, I would highly recommend This Works – Perfect Legs:
It's a tinted serum with a subtle colour and slight shimmer, that washes off in the shower. Enriched with Vitamin C and E to hydrate, smooth and perfect legs that may not have seen the sun for a while. Although a little pricey for an area-specific product, this formula works really hard and gives beautiful results.
If you're looking for an all over, my go-to is always SKINNY TAN. I have tried a lot of their products and I always come back to these 3:
SKINNY TAN Gradual Tanner 125ml, SKINNY TAN Express Mousse 150ml, SKINNY TAN After Glow Gloss 125ml
The SKINNY TAN Gradual Tanner is applied like a moisturiser and builds in colour day by day – however, if you're going to shave or wax your legs the day before or day of, it will come off. Consider yourself warned!
SKINNY TAN Express Mousse is IN-CREDIBLE. Exfoliate, apply evenly, after an hour wash it off and you're done. Perfect tan with hardly any development time, no orange bed sheets and no biscuit-smelling clothing. A word of caution, it is very fast acting and if you only want a subtle tan you can wash off as soon as 45 mins and still get a great colour that will continue to develop for an hour or so after that. Equally, if you want a deeper colour, leave on for the full hour plus a little more.
Personally, I steer clear of the SKINNY TAN mist or oils – I have found them a lot harder to control and have a tendency to appear streaky if you're not careful – I am a seasoned tanning pro and have ended up looking like an oak table on more than one occassion! Also be careful when selecting your colour – their dark is daaaaark!
Finish either with the SKINNY TAN After Glow Gloss for a smooth, glow. I usually use this on my legs or arms if I want to see greater definition, the reflective quality of the product leaves you looking toned and sculpted. All the SKINNY TAN products smell delicious and the above have all been fine on my super-sensitive skin. They are certainly not the most expensive product and a little goes a long way – they also, usually have bundles and offers on their website.
If you're looking for all over for the night that is fool-proof and easy to touch up if you make a mistake, I would recommend Rimmel Sunshimmer Instant Tan: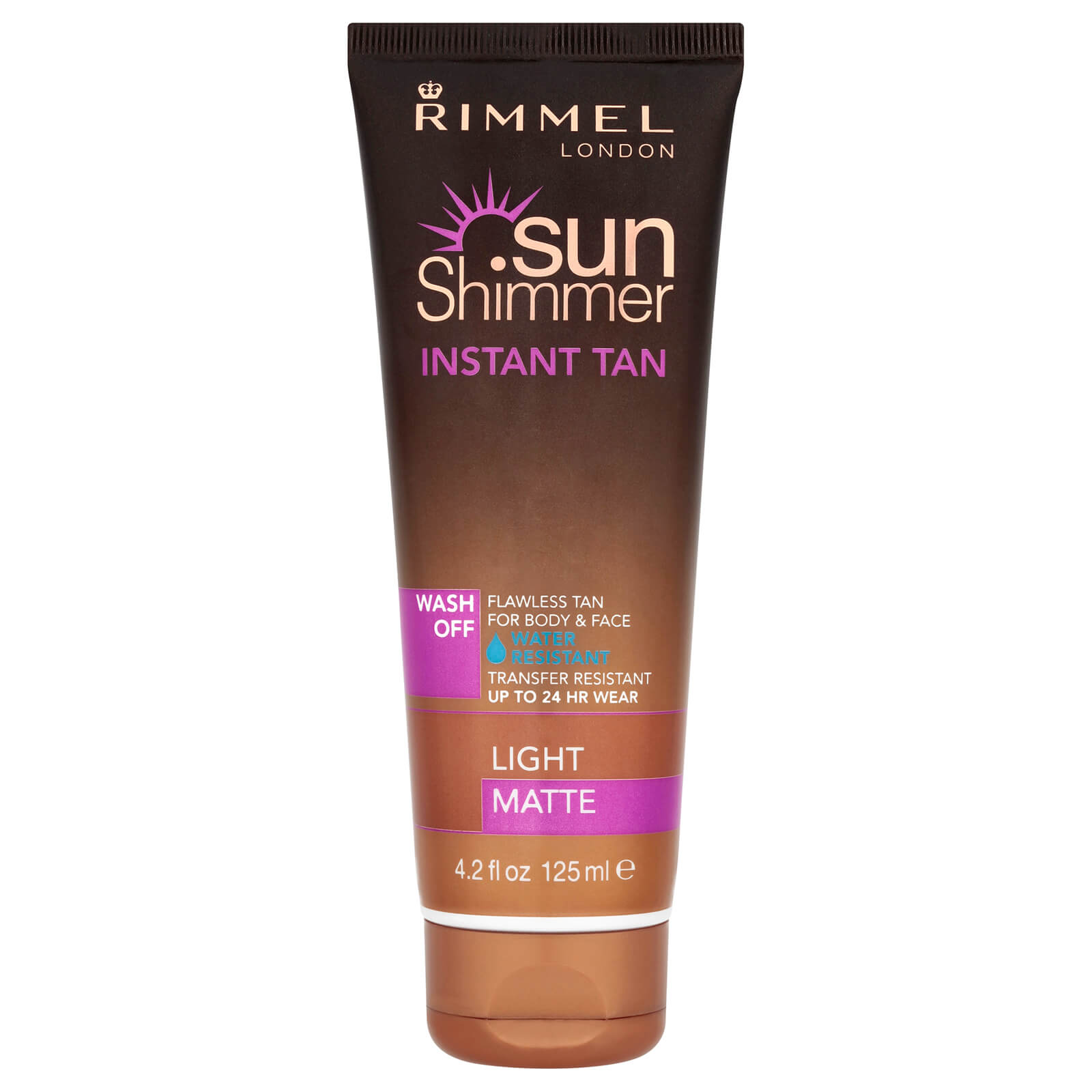 It comes in a range of colours from light to dark, with different finishes (shimmer, matte etc.). It's really purse-friendly and an all-round reliable product. This was the first tanning product I used in my teens and it still does the job very well.
Word of advice – whichever product you use ensure that you really thoroughly exfoliate before application, focusing on feet, ankles, knees and elbows. Follow the instructions on the bottle with regards to moisturising dry areas and always USE A MIT to avoid tangerine hands!